Australian mining mogul Gina Rinehart loses privacy bid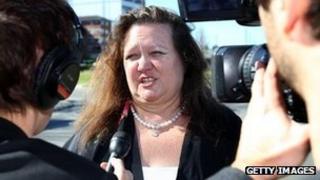 Australia's wealthiest person has lost a legal battle to keep details of a family feud private, local media say.
Billionaire Gina Rinehart wanted to suppress details of her dispute with her three oldest children, but a court rejected her request.
The case was filed by her children last year. They want her removed as head of the family trust for misconduct, something she denies.
The mining magnate has an estimated net worth of $18bn (£11.4bn).
Ms Rinehart's three children - John Hancock, Bianca Rinehart and Hope Welker - wanted the 58-year-old removed as a trustee of the Hope Margaret Hancock trust, which provides income to the family, and for them to be appointed in her place.
They filed the lawsuit on 5 September, and Ms Rinehart secured a court order to keep details of the dispute private.
The decision by the High Court in Sydney will likely result in details of the case being made available to the media.
Paul McCann, Ms Rinehart's lawyer, said that Ms Rinehart was "extremely disappointed" in her three children for "making public a private matter and jeopardising family security".
He said they enjoyed "very privileged lives" including having "designer clothing and multi-million-pound homes with water views". He added that if they were not happy with what they had, they "should go and earn for themselves".
Ms Rinehart's youngest daughter, Ginia, has sided with her mother in the dispute.
"This case is motivated entirely by greed and I have no doubt that one day soon my brother and sisters will regret putting money before family," she said in a statement.
Ms Rinehart's father, Lang Hancock, was credited with discovering iron ore in Australia in the 1950s. Forbes magazine ranks her as the 29th richest person in the world.