Afghans lampoon clerics over women ruling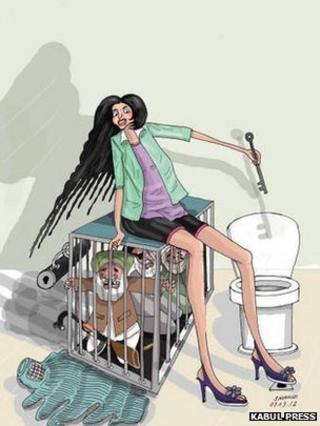 After a council of Afghan clerics issued restrictive guidelines for women, later embraced by President Hamid Karzai, young Afghans streamed to social media sites to lampoon the rulings, reports BBC Persian's Tahir Qadiry.
"It's outrageous," wrote one young Afghan on his Facebook page.
"The next thing they'll be saying is that Afghanistan needs to be divided up in two - one half for men and the other half for women."
This was just one of thousands of comments posted on social media sites by young Afghans this week, after their country'stop religious council said that men and women should not mix at school, work or in other everyday situations.
When President Hamid Karzai endorsed the council's recommendation at a news conference in Kabul, the Afghan blogosphere went into overdrive.
New sites have been set up to campaign against what critics are calling gender segregation.
Reacting through humour
Some people have expressed deep anger at the religious council's call.
"The government's expenditure is going to rise sharply because they'll have to set up a special parliament for women, and separate universities, banks, and shopping malls," wrote Kabul resident on Facebook. "Maybe, they should just divide the city into special sections for men and women."
But others have decided that the best way to react is through humour:
"Ladies, you should not surface on Facebook without a male partner," wrote Mahnaz Afzal, an Afghan woman currently working in London.
"We have asked the Facebook administrators to create separate profiles for women. You are not allowed to 'like' or 'poke' someone on Facebook or you will be cursed."
"Could I please ask the Afghan girls not to comment on my posts unless they have permission from their fathers or husbands or the Ulema council?" one man tweeted.
"Girls are only allowed to access Facebook if they are wearing their burkas!" tweeted another.
Cartoons have appeared on many sites. One shows a woman in a traditional blue burka reading the television news, her face completely hidden.
Muzhgan Ahmadi, a student from Kabul, says the decision to use humour against the religious council's recommendations is a deliberate ploy.
Young people want to show that "we don't care and we won't obey", she told BBC Persian.
As a young woman now fearing that her new-found rights might be taken away from her, Ms Ahmadi is clearly finding it hard to keep her sense of humour.
"How dare the religious council decide about our faith?" she said, shouting angrily down the phone from the Afghan capital.
"It is completely disrespectful to women's rights and it undermines our privacy. We won't let them pass this law."
Many young Afghans see the government's support for the recommendations as a throwback to the Taliban era and say the president is using it to reach out to the Taliban.
"It means the government is paving the way for the Taliban to control Afghanistan", says Zakia Nawa, a women's rights activist who fled to Iran when the Taliban came to power.
"I remember the bitter time when we were housebound by the Taliban and were deprived of education. This is another way of restricting women's rights."
Anger in verse
Some members of parliament have also spoken out about the new recommendations.
Ahmad Behzad, an opposition deputy from the western city of Herat says it contravenes the Afghan constitution.
"This is done by people who have an interest in the Talibanisation of Afghanistan," he said. "Restricting women's rights is taking advantage of people's emotions."
Rawan Online, Afghanistan's first website devoted to mental health issues, has supported the launch of a campaign against the religious council's recommendations. Called the Afghanistan Women's 50 % Campaign, it aims to support women facing what the site calls "unfair restrictions" in their everyday lives.
Rawan Online's editor-in-chief, Dr Esmael Darman, who lives in the US, told the BBC that lots of young people had contacted his site to say that the new recommendations had made them feel very worried about the future.
"To me a man is only a hero when he respects women and accepts them as human beings," he said. "Having a gun doesn't make you a hero, and neither does violating rights."
The anger has been reflected in verse. A strongly worded poem by the well-known poet, Samay Hamed, in which he condemns the new law, has been widely shared on Afghan social media sites.
"If you act against a woman, that means acting against your mother," he wrote.
"Life is only possible with a woman but you keep on chanting against them."
But the country is deeply divided. By no means everyone in Afghanistan thinks the religious council ruling is a bad thing.
A good thing?
Most of those who have taken to Facebook and Twitter to protest this week are from the country's young, educated urban elite.
But there is another Afghanistan out there, where people are deeply religious and protective of traditional values.
"I support the comments by the Ulema council because it is in accordance with Islam," Abdul Salam, student of Islamic theology from southern Afghanistan.
"Contrary to all the criticism, it will help women to work more confidently and without being exposed to their male partners."
"We are Muslims and we must obey what Islam and our clerics say," said Nasrullah Khalid, a resident of Badghis.
"If men and women are separated, I will let my own daughter go and study at university. "
"I am surprised that our young people call themselves Muslims, but when it comes to Islamic rules, they make fun of it," wrote Ahmad Khalid, a Kabul resident on Facebook.
"Grow up people you are soon going to have to face up to reality! "
It is not yet clear what will happen next and whether the new recommendations will be proposed as a new law. But at a time when so many questions are being asked Afghanistan's future, the debate about has certainly added to an already charged situation.