Burma holds peace talks with ethnic Kachin rebels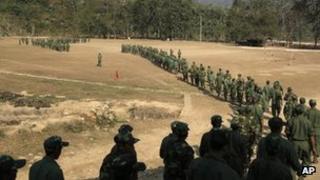 Burma's government is holding talks with ethnic Kachin armed rebels in the hope of brokering a truce in the decades-long conflict.
The government has signed provisional ceasefires with several armed ethnic groups in recent months as part of political reform in the country.
But attempts to end the fighting in Kachin state have proved difficult.
Western nations say the lifting of sanctions depends on progress being made towards national reconciliation.
Meanwhile a prominent monk, who served years in prison for anti-government activities, has been questioned in custody for the second time in recent weeks.
The family of Shin Gambira told the BBC's Burmese service he had been detained for about 24 hours and questioned about a recent visit to Kachin state.
Decades of mistrust
Conflicts between Burma's central government and rebels from the various ethnic minority groups have flared sporadically over the decades since the country gained independence.
Tens of thousands of people have been displaced by fighting and there are many reports of human rights abuses.
The civilian government, backed by the military, which came to power in 2010 is attempting to sign ceasefires with rebel groups in preparation for further political discussions.
On Wednesday, they signed a preliminary ceasefire with the ethnic Karenni rebels in the east of the country.
But the BBC's South East Asia correspondent Rachel Harvey says that after decades of mistrust, many of the groups that have agreed a truce have done so with extreme caution.
The Kachin have so far refused to sign any agreement before political issues are resolved but are now entering into talks.
Meanwhile, fighting between the rebels and the army is continuing, say reports, forcing thousands of people to remain in temporary camps on either side of the border with China.
Our correspondent says reaching a nationwide peace deal is widely recognised as key to Burma's future political and economic development.