Attack kills four Thai soldiers in restive south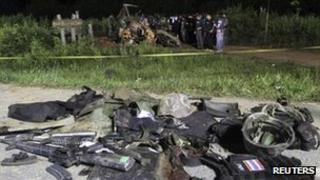 Four soldiers have been killed in southern Thailand after suspected militants detonated a roadside bomb.
Police said that the attack occurred late on Wednesday in Narathiwat province, one of three southern provinces hit by Muslim separatist violence.
The suspects detonated the device as the two-vehicle patrol travelled down a rural road, police said.
Another soldier was seriously injured in the attack.
Thailand's three southern-most provinces have been plagued by bomb attacks and shootings since 2004, when a decades-old separatist campaign reignited.
More than 4,300 people have been killed in the violence. The Thai army had 60,000 forces stationed in the region to tackle the insurgency as of 2011.
Thailand annexed the three provinces - Narathiwat, Yala and Pattani - in 1902, but the majority of people there are Muslim and speak a Malay dialect, in contrast with the Buddhists in the rest of the country who speak Thai.