US-Philippine drills near disputed South China Sea area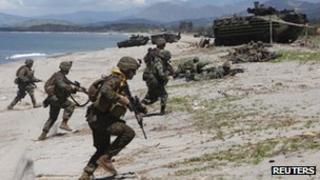 The Philippines has confirmed that it is holding military drills with the United States next month in Palawan.
The exercises will take place from 16 to 27 April near disputed territory in the South China Sea.
The region has seen tension due to overlapping territorial claims involving the Philippines, China, Vietnam, Malaysia, Brunei and Taiwan.
The drills will involve 4,500 American and 2,300 Filipino military personnel, officials said.
"The cooperation between the two armed forces manifests the unswerving dedication and commitment of our security forces towards a more stable and secure Asia-Pacific region," armed forces chief Lieutenant General Jessie Dellosa said ina statement.
The US Embassy in Manila said that observers from Asean and "partner nations" have been invited.
The Philippine military did not specify exact locations where the military exercises would be carried out. Palawan island lies south-west of Manila.
"There are different places of engagements (in Palawan)," Major Emmanuel Garcia, spokesman for the Philippine contingent, told AFP news.
Philippine officials also said the Balikatan (a Filipino word for "shoulder-to-shoulder") drills were to ensure smooth co-operation with the US during emergencies and disasters.
Oil and gas
China, which lays claim to waters near the western edge of Palawan, has yet to respond to the upcoming drills.
China claims almost the entire South China Sea, well into what the UN Convention on the Law of the Sea recognises as the 200-mile-from-shore Exclusive Economic Zones of other claimants.
That has led to occasional flare-ups and to competition to occupy islands, reefs and sandbars. Reserves of oil and natural gas are believed to exist in some of the disputed areas, which are also valuable shipping lanes.
The dispute escalated last year when the Philippines and Vietnam accused China of intimidation. The Philippines alleged that Chinese ships had fired on Filipino fishermen in its waters, and called for closer military ties with the US.
The Philippines became a US colony after a brief war early last century. It eventually attained full independence in 1946 but the US maintained a presence on military bases.
These bases , which included the famous Subic Bay naval base in Zambales, were eventually voted out by the Senate in 1991, bringing to an end almost a century of US military presence.
A US official dismissed a suggestion earlier this year that bases could be re-established.