New Zealand Rena ship captain 'took short cut'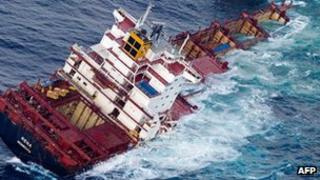 The captain of a ship which ran aground off New Zealand spilling hundreds of tonnes of fuel oil was taking a short cut, an investigation has found.
Aninterim reportby transport officials says the crew of the Rena was trying meet a deadline to reach port.
The crew sailed closer to the coast than planned to save time, and ran aground on a reef near Tauranga on 5 October last year.
Some of the country's most pristine beaches were polluted by the fuel oil.
Hundreds of seabirds were killed in what has been described as New Zealand's worst maritime environmental disaster.
The captain and navigating officer have pleaded guilty to mishandling the vessel and altering ship documents after the crash.
The court has not published the names of the men, who are both from the Philippines. Their names will only be revealed when they are sentenced, which is due on 25 May.
The report by the New Zealand Transport Accident Investigation Commission says the captain and his navigating officer made several course changes as they tried to get to their port by a deadline of 0300 local time.
Around two hours before then, the port authorities at Tauranga warned they needed to make "best speed" to avoid changes in the tides which would delay them by several hours.
Radar warning
The captain then agreed to change course to pass within two kilometres (1.25 miles) of the well-marked Astrolabe reef, rather than the recommended 4.8km.
Around nine minutes before the accident, the captain noticed an echo on the radar screen, but continued on the course while trying to see something in the water, the report says.
New Zealand's government last month estimated the cost of the cleanup at NZ$130m ($108m). Most of the costs have been met by insurers.