Australia military faces years of abuse inquiries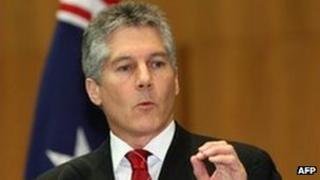 Australia's military faces years of inquiries into allegations of physical, sexual and emotional abuse, following an initial review by a legal firm.
The lawyers looked into more than 1,000 claims of mistreatment made by military staff going back 50 years, and found 775 "plausible allegations of abuse".
The lawyers recommended a compensation scheme, an apology to victims and a royal commission investigation.
The review was set up following a sex scandal at a military academy in 2011.
In that incident, two cadets from the Australian Defence Force Academy were accused of secretly filming a female cadet having sex and broadcasting it on the internet.
The incident sparked series of other reviews into the military, some of which were published on Wednesday.
One of the reviews looked into the handling of the cadet's complaint by the head of the academy, Commodore Bruce Kafer.
The female cadet had been facing separate disciplinary matters at the time of the incident, and Cmdr Kafer had allowed a hearing against her to go ahead despite her allegations of abuse.
Cmdr Kafer was temporarily redeployed last year while the review took place, but the report cleared him of wrongdoing and said he should be reinstated.
Defence Minister Stephen Smith, who had publicly criticised Cmdr Kafer at the time, said there were no legal grounds for not returning to his job.
But he added: "I make no apology for making in public the very strong point that I thought it was an error of judgment to allow the character of the potential innocent victim of an alleged serious sexual abuse to be brought into play."
Mr Smith said the reviews showed that things had to change.
'Strong values'
After the scandal at the Canberra academy, the law firm DLA Piper was commissioned to review abuse in the military.
The firm received such a high number of claims that the review had to be extended.
The earliest claim dates back to 1951 and was made by a man in his seventies who was a 13-year-old cadet at the time.
The claims were made by men and women, involve children and adults, and cover every decade from the 1950s to the present.
The other reports commissioned by the defence minister covered a range of aspects of the culture of Australia's military, including alcohol consumption and the use of social media.
In the defence department's response to the reports,Pathway to Change: Evolving Defence Culture, the department acknowledges that cultural changes needed to be made.
The document says that "some people within our ranks do not live by the strong values readily accepted by the majority of our people".
Sex Discrimination Commissioner Elizabeth Broderick is also conducting a review into the treatment of women both at the academy and in the wider Australian military.