Sultan of Brunei ex-wife sues over '$18m jewel theft'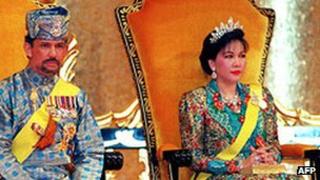 The Sultan of Brunei's former wife has launched a UK legal action, suing her former bodyguard for the alleged theft of jewellery worth millions of dollars.
Mariam Aziz, 55, is demanding compensation from Fatimah Kumin Lim, who she says stole jewellery and diamonds worth more than $18m (£11m).
Ms Lim says she was authorised by Ms Aziz to sell some of the jewellery to pay off the latter's gambling debts.
Ms Aziz and the sultan, one of the world's richest men, divorced in 2003.
She told the High Court in London that she had given a diamond bracelet to one of her bodyguards for safekeeping during a night out in 2008, and had not seen it again.
"I was confused and determined to look for it so I asked the whole household, all the maids, to look for it and offered a reward," she told the court.
"For over one and a half years, I was still looking for an answer. I never reported it to the police because I was not sure if I had lost it or misplaced it."
Ms Aziz's lawyers told the court that Ms Lim had arranged the sale of the bracelet to a Geneva-based company for more than $5m because it was she - rather than her boss - who had gambling debts.
They are suing Ms Lim for compensation for the full amount.
They also accuse her of selling two diamonds worth more than $13m. Ms Aziz is trying to recover the stones from another Swiss firm.
The court heard that Ms Aziz, a former air hostess who married the sultan in 1981, first employed Ms Lim as her badminton coach in January, 1986.
Ms Lim later became her bodyguard and travelled all over the world with her, spending time at Ms Aziz's homes in London, Brunei and Singapore.
Ms Lim, who is based in Singapore and is not in court, has been made the subject of a worldwide order freezing her assets.