Four people killed in Afghanistan Kandahar bomb blast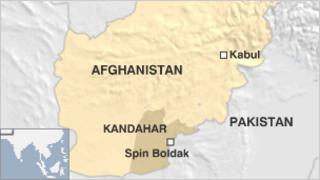 Four people have been killed and 10 injured in a bomb blast at a police post close to the Afghan border with Pakistan, Afghan officials say.
The bomb was planted in a motorbike, officials say, and and a woman and a child are among the dead. No-one has claimed responsibility for the attack.
Spin Boldak in Kandahar province is a busy border crossing close to the Pakistani town of Chaman.
The town is situated 70 miles (110km) from the provincial capital, Kandahar.
Last week a Taliban suicide car bomber killed at least nine people and wounded 10 others in an attack at Jalalabad airport in eastern Afghanistan.
The insurgents said the bombing was in revenge for a Koran-burning incident at a US air base near Kabul a week ago.