Afghan concern over 'guidelines for women'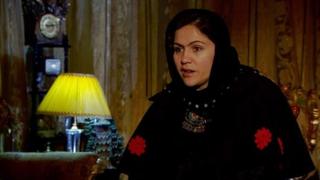 Afghanistan's top religious council has said women should not mix with men in school, work or other aspects of daily life. The Ulema Council has also said that women should not travel without a male relative. The BBC's Orla Guerin has been hearing reaction to the ruling from people in Kabul.
The comments by senior clerics - which have been welcomed by President Hamid Karzai - were included in a statement outlining the rights and duties of women under Islam.
Human Rights Watch says it is worrying that the Ulema Council has issued this statement, and that President Karzai has backed it.
The council says its comments are a request and a reminder, not an instruction. But critics saythe statement is an echo of the Taliban.
Leading woman MP Fawzia Koofi - who survived a Taliban ambush two years ago - has no doubt what the statement means.
"I think it's the beginning of taking women back to the dark period of the Taliban," she told the BBC.
"It's dangerous. It's an alarm for women in Afghanistan".
'We want to be free'
Campaigners believe the timing of the statement is no co-incidence. They say it is part of the president's outreach to the Taliban.
In the push to do a peace deal with the insurgents, they fear the Afghan leader may be willing to sacrifice women's rights.
"It does look like President Karzai is trying to placate the Taliban as part of the negotiations," said Heather Barr, of Human Rights Watch.
"It looks like they are trying to show the Taliban there is no huge cultural gap between them."
Women could be the big losers in any deal with the insurgents, according to Fawzia Koofi. She warns that the progress made in recent years - at huge cost to the international community - could soon be rolled back.
"We have struggled for 10 years," she said. "We have gained so much. This is the beginning of compromising some of those gains that cost us and the international community blood and treasure."
But some young Afghan women we spoke to seemed ready to ignore the council's statement.
"People must not pay attention to it," said Freba, a young student who wants to be a doctor. "Boys and girls can study comfortably in class together. They don't have any problems. We want to be free, to think freely and study freely."
'A lot of troubles'
Across town at Afghanistan's Channel 1 TV, the council's statement was unwelcome news for top presenter Neshana Ibrahimi - who is surrounded by male technicians.
"It's wrong to say we shouldn't work together," she told me. "I am proud of my job, and the fact that I work outside my home. There is no problem working in the same office as a man."
Women newscasters have been in the headlines here lately, after the government told them to wear headscarves and avoid heavy make-up.
Neshana, 23, who always wears a head-scarf on screen but has not foregone her make-up - is worried about the future for Afghan women.
"Many women are concerned about negotiations between the government and the Taliban," she said. "I am completely against a deal. If the Taliban come back we will face a lot of troubles."
The council's statement is the beginning of "a process of Talibanisation" according to Fawzia Koofi.
"They have started taking some of those basic rights," she said, "like working together, living together, going out like a free human being. I am worried for my daughters and for all the girls and women of Afghanistan."
The MP believes the president, and the clerics, may be testing the water with this statement - waiting to see if there is a domestic or international backlash.
She warns that if there is no resistance, there may be worse to come.