Japanese Emperor Akihito leaves hospital after surgery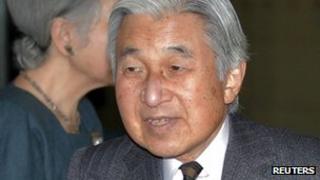 Japan's Emperor Akihito has left hospital in Tokyo following a heart bypass operation, the palace has said.
The 78-year-old head of state, who has suffered from poor health in recent months, underwent surgery in February at the University of Tokyo Hospital.
He was pictured walking on his own and bowing to doctors before getting in a car with his wife, Empress Michiko.
He is reported to be keen to take part in the anniversary events of the 11 March earthquake and tsunami.
Although the emperor plays a largely ceremonial role, he is deeply respected by many Japanese.
He ascended the throne in 1989 following the death of his father, Emperor Hirohito.
Emperor Akihito also had surgery for prostate cancer in 2003 and suffered stress-related health issues in late 2008.
In 2009, the Imperial Household Agency said he would cut back on official duties such as speeches and meeting foreign dignitaries.