Winter adventure on Afghanistan's ski slopes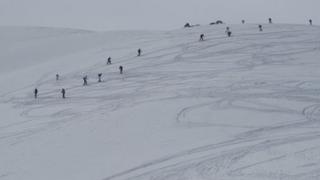 Bamiyan was once renowned for the famous Buddha statues, destroyed by the Taliban in 2001. But now this central Afghan province is working hard to attract tourists to its snowy slopes with a ski festival, writes BBC Afghan's Ramin Anwari.
"Forget about war, forget about terrorism. For now, this is all about having fun," declares one participant at Bamiyan's international ski competition held in the mountains of Khoshkak, a 30-minute drive from the capital of Bamiyan province.
Although the ski competition is in its second year, this is the first time that foreigners have taken part. There are about 20 skiers from outside Afghanistan, alongside 10 local competitors who have been newly-trained.
This is part of an ambitious plan to promote adventurous activities in different parts of Afghanistan, a country exhausted by more than three decades of war and destruction.
"Bamiyan certainly has the potential, as it has had throughout its long and rich history, to become a favourite tourist destination," says Amir Foladi, who works with the Aga Khan Foundation to promote tourism in the country.
"Bamiyan is a good place to visit in spring and summer, but we are trying to make it an enjoyable place for all four seasons, by introducing winter sports such as skiing," he adds.
'Up in the air'
The initiative by the Aga Khan Foundation and other partners, including the Bamiyan Ski Club and the Rah-e-Abrisham Company, has attracted tens of locals, including a number of women in Bamiyan who are relishing the opportunity of becoming the first ever ski guides in their country.
"We are surely having lots of fun" says one who is training to become a ski guide. "Besides that, we are learning a very exciting sport. It's amazing to learn to ski, it's like flying up in the air and with the beautiful landscape of Bamiyan, it's even more exciting."
Although Bamiyan has the perfect climate for ski lovers and mountains as high as 5000m (16,404 ft) covered by snow throughout the winter, there are poor facilities on the ground.
There is no mountain rescue service or avalanche warning system in place and local medical facilities are described as very basic.
Skiers have to rely on the knowledge of local guides who have been trained on how to escape from sudden avalanches and the only local hospital in the town, which can provide emergency assistance.
"There are challenges, no doubt about it" says Amir Foladi. "But we are working to solve it. Security is anther big challenge for our future plans, but there is no point in losing hope and and not doing anything."
The tough route
While there have been huge security problems throughout the country, Bamiyan has been untouched by war since 2001.
But the security situation elsewhere remains a concern and this has had its impact on the number of tourists visiting Bamiyan.
Before the civil war in Afghanistan, Bamiyan welcomed tens of thousands of foreign tourists in a year. There were none during the war years.
Although Bamiyan has begun to lure tourists back over the last decade one of the main problems lies in the route from Kabul to Bamiyan.
Currently no commercial airline operates between the two and those who wish to fly to the province have to rely on UN or Isaf flights, which are expensive and cannot accommodate large numbers of passengers.
And security problems on the road route, from Taliban ambushes to land mines, prevent tourists taking the eight hour drive from Kabul to Bamiyan.
"There are hopes for the future of Bamiyan if we have a better security in Afghanistan," one local shopkeeper in central Bamiyan says.
"Lots of things rely on security. We definitely would love to be a tourist-friendly province. It will help our economy, but for the time being, security is the most important need."