Australia media inquiry recommends watchdog body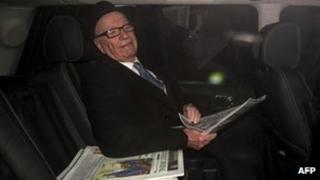 An inquiry into Australia's media has recommended that a new watchdog body be established to set and monitor journalistic standards.
The inquiry was launched in September 2011 in the wake of Britain's phone-hacking scandal.
Rupert Murdoch's News Limited controls 70% of Australia's newspaper market and has extensive holdings in TV and the internet.
The report called for a "News Media Council" to handle public complaints.
The review, headed by former judge Ray Finkelstein, found that current self-regulation mechanisms did not make media organisations sufficiently accountable and said more needed to be done to bolster public confidence.
The review found that ''only one or two'' newspapers in the country had appointed an Ombudsman and that the voluntary Australian Press Council ''lacked the teeth and necessary funding''.
The new council would apply to news and current affairs across print, online, radio and television. The inquiry said it should be funded by the government but independent of it.
"The establishment of a council is not about increasing the power of government or about imposing some form of censorship," the report said.
"It is about making the news media more accountable to those covered in the news, and to the public generally."
The watchdog would handle complaints and should have power to make a news outlet publish an apology, correction or retraction, the report said.
Communications Minister Stephen Conroy said that the government would consider the recommendations in conjunction with another media and communications review due to report findings later this month.
The media inquiry followed the closure in the UK of Mr Murdoch's News of the World tabloid after a string of damaging allegations that it had been illicitly hacking into the voicemail messages of prominent people to find stories.