Nato's crisis of trust in Afghanistan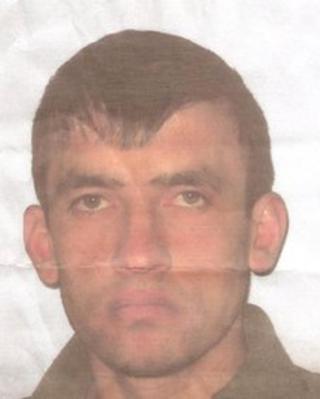 The man blamed for killing two Nato officials inside the Afghan interior ministry at the weekend should never have been given security clearance, the BBC has learned. A catalogue of security blunders led to the shootings and his escape. There are now real concerns for the future of the relationship between Nato and its Afghan security partners, Bilal Sarwary reports from Kabul.
The shootings are the latest in a long list of incidents in whichmembers of the Afghan security forces have turned their arms on coalition troops. Officials feel powerless to stop them despite elaborate security mechanisms that are supposed to be in place.
Concern about the issue among US and Nato officials has now become so great that trust between them and Afghan security and military officials is at an all-time low. Many fear the long term strategic relationship between the two sides could be affected.
The interior ministry documents show that Abdul Saboor was sacked twice by police because on one occasion he got into a scuffle with his colleagues and another time he displayed violent behaviour.
But still he was able to get security clearance when he was re-hired by the police for a third time to work as an interior ministry driver.
Irretrievable breakdown
"He should never have been a police intelligence officer," a frustrated Western military official posted in Afghanistan said. "He should have never got the security clearance."
Occurrences in which Afghans turn their weapons on their Western counterparts happen on an almost weekly basis - shortly before the incident at the interior ministry, two US soldiers were shot and killed by an Afghan National Army soldier during protests at a Nato base in eastern Nangarhar province.
And on Thursday two more US soldiers were shot dead in the south of the country - Nato said one of the men was dressed in Afghan army uniform.
In fact, more than 70 Nato troops have been killed by Afghan colleagues in recent years, leading to what some diplomats say is an irretrievable breakdown of trust between the two sides.
Although Nato's Afghan commander Gen John Allen said he would still be willing to walk, unarmed, into the Kabul interior ministry, few coalition troops on the ground have such confidence in their Afghan colleagues - some of whom continue to receive Taliban propaganda on their mobile telephones.
The stark fact is that Nato troops are now nervous and twitchy whenever they are with their Afghan counterparts, and an investigation conducted by the BBC into what led to the interior ministry shootings on Saturday clearly explains why.
Interior ministry paperwork seen by the BBC suggests that the recruitment and vetting of personnel for the Afghan army and security forces is so deeply flawed that any effort to improve it is bound to be a time-consuming and painstaking process.
Western officials and their Afghan counterparts are in despair over how easily Abdul Saboor was able to bypass security in what was supposed to be a high security building and carry out the killings - apparently in retaliation to the burning of copies of the Koran by US soldiers.
''There are a number of serious security flaws," a senior officer of the National Directorate of Security (NDS), told the BBC.
"The first thing you do when such an incident happens is lock down the building and detain everyone, including eyewitnesses. But no such drill was carried out in this case."
This allowed the killer to jump three security cordons surrounding the ministry, he said. As if this was not worrying enough in itself, the incident also graphically exposed serious lapses in the vetting process of Afghan soldiers and policemen.
Much revolves around the recruitment process itself - many prospective employees have fake identities, fake references and fake signatures.
That begs the question, how many more Abdul Saboors might there be out there?
Violent behaviour
The documents seen by the BBC are hardly reassuring. They show that Abdul Saboor was twice fired from the Afghan National Police for "misconduct".
"How on earth then did he succeed in gaining entry to the intelligence wing of the police?" asked an investigating officer.
"Who gave him security clearance to be deployed at such a sensitive spot with his record?"
That is a question that is likely to go unanswered - there is currently a blame game between different governments ministries as to who is responsible.
Some of Abdul Saboor's relatives believe that there may be a peculiarly Afghan answer to this question, linked to patronage and corruption.
They say that he succeeded in winning the trust and backing of former Minister Hanif Atmaar after returning from religious school in Pakistan in 2007 to work in the ministry as a tea boy.
Interior ministry sources say that two of Mr Atmaar's top aides acted as his guarantors when he expressed a desire to develop his career and join the police.
Mr Atmaar denied having anything to do with Abdul Saboor, who he said was sacked after only four months at the ministry. He says that the priority now is to find out who re-employed him and who gave him such high security clearance.
Such informal arrangements - often with employees whose records are never properly checked - are commonplace in government ministries and other public offices.
Western diplomats say the problem can only be sorted out once long term problems such as patronage, corruption, personal connections and nepotism are addressed.
They say that a turf war between the NDS - the country's main spy agency - and the defence ministry also needs to be resolved.
In another peculiarly Afghan dimension to the Abdul Saboor case, Western and Afghan officials say Shiren Agha, the commander in charge of interior ministry security, was responsible for his recruitment. Officials say that Mr Agha is related to Interior Minister Bismillah Khan by marriage.
But Sediq Sediqi, a spokesman for the interior ministry, told the BBC there was no relationship between Shiren Agha and Mr Khan.
Although Abdul Saboor worked only as a bodyguard and driver for Mr Agha, he was still allowed entry into the most sensitive installations at the interior ministry, where night raids, counter-terrorism and counter-narcotics operations are planned and controlled.
"As painful as it might be, it is a reality that a combination of time-honoured problems and serious mistakes allowed Saboor to get into the ministry," a Western diplomat said.
"It is a pattern that is being depressingly repeated across the country."