Protests delay opening of Maldives parliament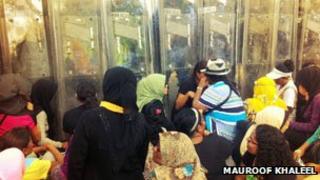 Protests have disrupted the opening of the Maldives parliament, with reports of scuffles breaking out between MPs inside the chamber.
The demonstrations came as new President Waheed Hassan was to deliver his inaugural presidential address.
MPs from former President Mohamed Nasheed's party and protesters vowed to prevent the speech from taking place.
Mr Nasheed says he was forced to resign on 7 February by an army "mutiny", a claim denied by Mr Waheed.
Mr Nasheed's Maldivian Democratic Party (MDP) would not let the new president deliver his address unless he agreed to early elections, MDP youth wing leader Shauna Aminath told the BBC.
Last week Mr Waheed hinted that early elections may be considered.
While angry demonstrations took place outside the parliament building, there were reports of chaos inside the chamber, with television footage apparently showing rival MPs wrestling each other to the ground.
Reports say that MDP MPs removed the seats reserved for the president and the speaker of the parliament in an apparent effort to stop Mr Hassan from delivering his speech.
A number of demonstrators on the streets were detained and reports said that several policemen were among those injured in clashes between protesters and security forces.
The speech was due to take place at 1000 local time (0500 GMT).
According to the constitution, the president must speak to the lawmakers and officially inaugurate a new parliamentary session after a change in leadership, the Associated Press news agency says.
Live feeds to the television session were cut off and as reporters were not able to use mobile phones inside parliament, the situation was difficult to verify, the Haveeru News service reported.