Pakistan phases out most Indian import restrictions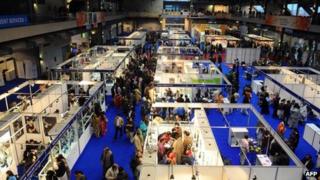 Pakistan will phase out restrictions on most imports from India by December 2012, the government has announced.
The move is part of a pledge made last year to liberalise trade with India.
Analysts say the decision was expected and reflects weakening opposition to trade ties with India by the military and the right-wing religious lobby.
Formal trade between the countries is worth $2.7bn a year, while informal trade, by way of smuggling, is believed to be three times that, experts say.
The BBC's M Ilyas Khan in Islamabad says the decision marks a major shift in relations between the nuclear-armed neighbours. It means that anything from India can now be imported into Pakistan, except for 1,200 items which have been put on a "negative list".
Earlier, Pakistani traders were allowed to import only about 2,000 items from India.
'Taken into confidence'
Wednesday's move follows an earlier Indian offer not to oppose Pakistan's preferential trade treatment by major importers such as the European Union.
The EU is the largest exporter of Pakistani goods and a major source of revenue for a faltering Pakistani economy.
The two countries have had tense relations since their independence in 1947 and have fought three wars, two of them over the disputed region of Kashmir.
Earlier this year, Pakistan indicated that it would offer India most favoured nation (MFN) trading status, which India has already extended to Pakistan.
It also indicated it would switch from a "positive" list of tradeable goods - items that are allowed to be imported - to a "negative" list by the end of February.
Pakistan Information Minister Firdous Awan said that all "stakeholders", including the military, "were taken into confidence before [Wednesday's] decision".
Indian Trade Minister Anand Sharma said earlier this month that the two countries intended to increase formal trade to $6bn (£3.7bn) over the next three years.
Last year, a Pakistani commerce minister led a business delegation to India for the first time in 35 years.
Major exports from India to Pakistan include sugar, cotton, man-made filaments and chemicals, while its top imports from Pakistan include fruit, mineral fuels and organic chemicals.
India and Pakistan resumed formal peace talks last year after they were broken off in the wake of the militant attacks in Mumbai in 2008 which were blamed on Pakistan-based militants.