Aung Suu Kyi cleared to contest Burma by-election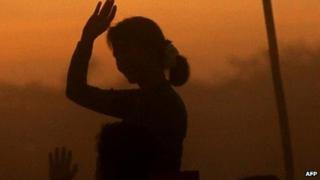 Burmese pro-democracy campaigner Aung San Suu Kyi has fought off a legal challenge to her candidacy for a seat in a parliamentary by-election.
A divisional election commission rejected allegations made by her rival for the seat that she was profiting from assets in Britain.
Ms Suu Kyi was released from house arrest in November 2010.
Her party boycotted the last elections but has now rejoined the political process amid reform in Burma.
The election commission's ruling is final and cannot be challenged.
Correspondents say it means that Ms Suu Kyi is now free to begin campaigning in Kawhmu, south-west of the capital, Rangoon, for polls due on 1 April.
Up until now she was allowed only to campaign for other National League for Democracy (NLD) candidates in general rather than for herself specifically.
The commission agreed with her lawyers that the complaint that she had money and property abroad was groundless.
If the allegations were found to be true, they would have made her ineligible to run.
The by-elections are being seen as a key test of the new nominally civilian Burmese government's commitment to recent democratic reforms.
Correspondents say that the commission's ruling in her favour was expected, in part because the government is thought to be eager to respond to US and Western pressure to make Burma more democratic and allow Ms Suu Kyi - a Nobel Peace Prize winner - to enter parliament.
Earlier this month officials lifted restrictions on election campaigning after the NLD complained that it was being denied the use of venues for rallies.
Reform process
There are 48 parliamentary seats being contested in the 1 April by-election.
Even if the NLD wins all 48 seats, the military-backed government would still have a commanding majority in parliament.
But correspondents say an opposition victory would be seen as hugely symbolic.
The 2010 elections saw a military junta replaced with the nominally civilian government backed by the armed forces.
Since then, the new administration has embarked on a series of reforms, prompting the NLD to rejoin the political process.
Western nations have said that they will match progress on reform with movement on sanctions.