Thai protest head Sondhi Limthongkul jailed over fraud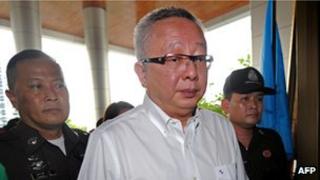 A Thai court has sentenced a leader of the yellow-shirt royalist political movement to 20 years in prison for corporate fraud.
Sondhi Limthongkul was convicted for falsifying documents to secure a multi-million dollar loan for his media empire.
He is awaiting a court decision on bail and plans to appeal.
He is a founder of the yellow-shirts, who helped oust former Prime Minister Thaksin Shinawatra in 2006.
The case involving Mr Sondhi dates back to the 1990s.
The Security and Exhange Commission accused him of falsifying documents used as collateral for a loan amounting to almost 1.1bn baht ($36m, £22.7m) for his media business.
A Bangkok criminal court found him guilty of violating the Securities and Exchange Act and handed down the maximum sentence possible.
The yellow-shirts, founded in 2005, were behind huge street protests that led to the military coup of September 2006 that ousted Mr Shinawatra.
The group was also responsible for protests in 2008 that shut down Bangkok's international airport and crippled the tourism industry.
In 2009, Mr Sondhi survived an ambush by gunmen who attacked his car in Bangkok, spraying it with bullets and hitting him in the skull.