Thailand activist jailed for royal insult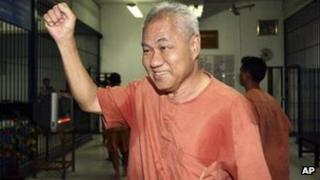 A Thai court has sentenced a political activist to seven and a half years in prison for insulting the monarchy.
Surachai Danwattananusorn, 71, was convicted of making defamatory speeches during rallies organised by the red-shirt political movement in 2010.
It is the latest in a series of cases brought under the lese majeste law.
It protects the most senior members of the royal family from insult, but rights groups say it is being used to suppress legitimate debate.
Mr Surachai was initially sentenced to 15 years, but the court cut this in half after he pleaded guilty to some of the charges.
The well-known activist, who was arrested a year ago, has been very vocal in condemning the 2006 coup that ousted former Prime Minister Thaksin Shinawatra, who the red-shirts broadly support.
Mr Surachai's lawyer says that the charges were politically motivated.
Thailand has some of the strictest lese majeste laws in the world, and any discussion of the monarchy is extremely sensitive, reports the BBC's Rachel Harvey in Bangkok.
But calls for reform have grown after a recent series of controversial cases, our correspondent says.
In recent years, the law has been used far more frequently and far more widely than in the past.
The United States, the European Union and human rights groups have expressed concern about the way in which the law is being applied.
Late last year, a 61-year-old grandfather was found guilty of sending text messages deemed to be offensive to the queen and was sentenced to 20 years.
A Thai-born American citizen is also serving two and a half years for posting online translations of a banned biography of the king.
Thailand's criminal code defines lese majeste as defaming, insulting or threatening the king, queen, heir-apparent or regent.