Japan cabinet bills seek to strengthen coast guard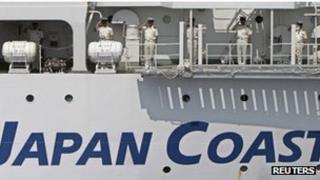 Japan's cabinet has approved bills to enhance the law enforcement powers of the coast guard in territorial waters, reports say.
The coast guard would be able to investigate illegal landings on islands and have more powers to eject ships.
Officials aim to have the bills passed in the current parliament session.
The move comes amid growing Chinese assertiveness over its maritime claims, which have sparked tensions with a number of countries.
Under the bills, the coast guard would be able to arrest suspects and examine the destruction of property on remote islands.
Another bill would empower the coast guard to ask foreign ships to leave Japan's territorial waters, without requiring it to inspect the ships.
The revised laws will take effect 20 days after they are passed by parliament.
The move comes amid ongoing tensions over territorial claims in the East China Sea.
In 2010 a diplomatic row erupted between China and Japan over the uninhabited Senkaku islands (known as Diaoyu in China) after a collision occurred between a coast guard vessel and a Chinese fishing boat.
The islands are controlled by Japan but also claimed by China. The area has rich fish stocks and possible oil deposits. The islands are also close to key shipping lanes.
Japan arrested the captain of the Chinese vessel, leading to a deterioration in ties between the two countries. The captain was eventually freed.