Where now for Burma's freed student leaders?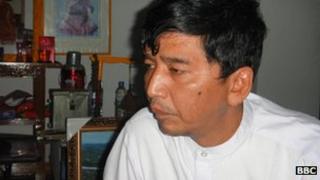 Among the most prominent political prisoners recently released in Burma are the leaders of a group known collectively as the '88 Generation Students Group.
Now in their late forties, these were the young men and women who, 24 years ago, took their demand for an end to military dictatorship out of the university campuses and onto the streets.
These were the protests that first thrust Aung San Suu Kyi into the political spotlight. But the 1988 uprising was brutally suppressed. Thousands were killed. Others fled into exile as the military government sought forcefully to stamp out all hint of dissent.
But some were caught and imprisoned. Among them Min Ko Naing, Htay Kywe and Ko Ko Gyi - three of the most charismatic leaders of the '88 Generation.
They each bear the scars of their often painful struggle for democracy - psychological as much as physical. Yet they betray no obvious anger, no desire for revenge for what Min Ko Naing calls their "bitter experience".
"We can forgive, but we can't forget," he said.
"Throughout our movement, we always called for national reconciliation," Htay Kywe explained, his voice laced with the gravelly tones of a heavy smoker. "We believe that revenge is a trap for our future, for our country's future."
Next to him, Ko Ko Gyi nodded in agreement. "Our suffering is a personal loss. But if we try to face the future of our country, we try to leave it in the past."
New direction
Over the years, these three men have been arrested and imprisoned several times. They have endured torture, harassment and long periods in solitary confinement.
Their most recent incarceration, each with a sentence of 65 years, was imposed for joining the 2007 monk-led protests, dubbed the "saffron revolution".
But on 13 January they were set free by the new civilian-led, but still military-backed government. Having been held in separate prisons in different parts of the country, it took two more days before the old "comrades" - their own description of their relationship - were reunited in Rangoon.
Sitting cross-legged on the floor, wearing identical longyis and white shirts, they are clearly still coming to terms with their new freedom, and still discussing how best to use it.
"We are now about 50 (years old) so we cannot go on like this; like student leaders, like a student movement anymore," said Ko Ko Gyi, laughing.
"So we are trying to change our direction. Some of us are very keenly interested in social work. Some may be engaged in politics. But under the same umbrella. We are trying to harmonise our movement."
The '88 Generation Group has chosen not to register as a political movement - at least not yet. It is not fielding candidates in the forthcoming by-elections.
Is the plan then to work within Aung San Suu Kyi's National League for Democracy party? Or will the '88 Generation always remain a separate faction within the broad pro-democracy movement?
Ko Ko Gyi responded with a verbal straight bat and a mischievous glint in his eye: "Oh, it's too early to talk like that."
But the question cannot be avoided forever. Min Ko Naing, Htay Kywe and Ko Ko Gyi are hugely respected and admired figures. People are looking to them to take a lead - to articulate a platform or a vision of the future.
"This is a burden on our shoulders," Ko Ko Gyi acknowledged. "How to fulfill their expectations, their hopes? That is the challenge we have to face."
"We are prepared to participate in the future political process and transition," Htay Kywe explained. "(But) now we are only in the liberalisation phase. Not yet real transition."
"We will try to support the decisions of Daw Aung San Suu Kyi, for the time being," Ko Ko Gyi clarified. "This is our way to co-operate, not only with Daw Aung San Suu Kyi, but also the parliamentary process."
'We hope'
Whether those cautious caveats "try" and "for the time being" were simply symptoms of communicating in a second language or a subtle indication of potential differences in approach was not made clear.
The '88 Generation leaders were all imprisoned by a military government that has, on the face of it, been consigned to history, albeit very recent history. But many of the same men responsible for the years of repression and the incarceration of thousands of political prisoners still hold positions of power today.
So it is understandable that the three men still harbour reservations about the process of change underway in Burma. They want to believe, they told me, but are biding their time, watching and waiting to see how events unfold.
For now, the reformers in the current government and parliament appear to have the wind in their sails. But it seems the course is still being plotted and a possible mutiny cannot be ruled out entirely.
Equally, there is no denying the steps that have already been taken in Burma over the past year. So, on balance, do the '88 Generation leaders feel pessimistic or optimistic about the future of their homeland?
"Neither," Htay Kywe responded firmly. "We need to be realistic. We hope for a system change not just a person change. We hope."
Ko Ko Gyi opts for the word "pragmatic" to describe his attitude.
Min Ko Naing, a man famous for his poetic style of oratory, replied in typically enigmatic fashion.
"It's like a fish in a glass of water," he said. "Is the glass half empty or half full? It doesn't matter. The question should be: 'Is it enough for the fish to live in?' We have to deal with reality."