North Korea warning as US and S Korea begin joint drill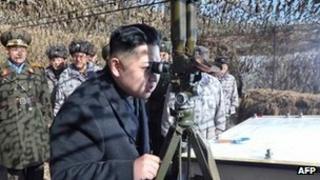 US and South Korean forces have begun military exercises on the Korean peninsula amid warnings from Pyongyang that the drills should not go ahead.
The annual exercises, known as Key Resolve, have brought hundreds of extra US troops into South Korea.
They will be followed later in the week by another set of joint military exercises called Foal Eagle.
North Korea has called the drills an "unpardonable infringement" and threatened to wage "sacred war".
The exercises, it said, go beyond previous ones held on the peninsula and "envisage a pre-emptive attack on North Korea".
North Korea's state media has carried threats of retaliation saying its army would "smash them with a sacred war of its own", the BBC's Lucy Williamson in Seoul reports.
South Korea says the annual exercises with its key ally are defensive. More than 2,000 Americans are taking part, including 800 based outside South Korea.
The US military said in a statement that the North Korean army had been informed of the exercises, which would be monitored by observers from other nations to ensure they did not break the armistice agreement signed at the end of the Korean War.
On Sunday North Korea's new leader Kim Jong-un visited front-line military units, including one said to be responsible for an attack on the South Korean island of Yeonpyeong in 2010.
Four South Koreans died when North Korea shelled the border island.
According to North Korean state media, Mr Kim pledged a "powerful retaliatory strike" if the US-South Korean exercises intruded on North Korean territory.