China 'sent back nine North Korean refugees'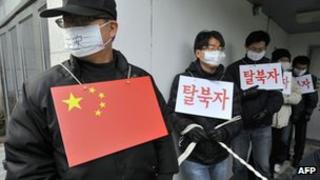 China repatriated at least nine North Korean refugees last weekend, South Korea media say, despite requests by Seoul not to send them back.
The South's foreign ministry, however, has not confirmed the repatriation reports. There was no word from China.
Seoul is scheduled to bring up the issue at a meeting with the UN Human Rights Council in Geneva next week.
At least 30 North Koreans were reportedly detained in China in separate incidents this month.
The South's legislators have called on China to follow international law in its treatment of the refugees. They have also adopted a resolution asking China to stop repatriating North Koreans.
South Korean President Lee Myung-bak also spoke out on the issue earlier this week.
Activists in the South have been urging China not to send the North Koreans back, saying they face severe punishment or even death.
China has said that the North Koreans are "illegal economic migrants" who must be returned home. Its stand on the North Koreans is not a new policy - it has been sending back those it finds within its borders for many years.
It is estimated that more than 20,000 North Koreans have fled to the South since the 1950s. The majority of them escape via China.