Baby Azaria's mother seeks ruling that dingo killed her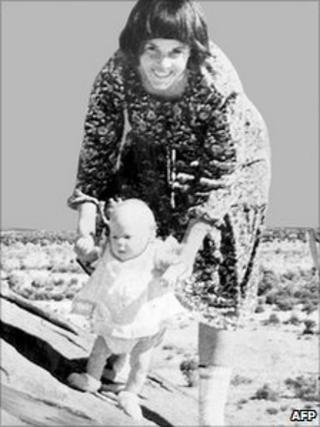 The parents of an Australian baby who vanished in 1980 have urged a coroner to rule that a dingo killed her.
Mother Lindy Chamberlain-Creighton said after the new inquest in the city of Darwin that she hoped for a "final finding" in baby Azaria's case.
She was convicted of murdering Azaria in 1982 but later cleared. An inquest recorded an open verdict in 1995.
The court in Darwin heard evidence on Friday that wild dogs could have killed the child. A decision is due next week.
Azaria's parents, who divorced after her disappearance on a camping trip in the Australian outback, have long argued that the open verdict has left room for doubt.
After Friday's hearing was adjourned, Ms Chamberlain-Creighton told reporters: "It gives me hope that this time Australians will finally be warned and realise that dingoes are a dangerous animal, and I also hope that this will give a final finding which closes the inquest into my daughter's death."
'Speculation and innuendo'
Azaria's parents presented new evidence cataloguing dozens of cases where dingoes attack and kill people.
Rex Wild, a former director of public prosecutions for the Northern Territory, where nine-week-old baby Azaria disappeared, described several of the attacks to the packed courtroom.
He said that if the evidence had been available for the 1995 hearing, the coroner would have ruled that a dingo could have been responsible for Azaria's disappearance.
"Although it may have been regarded as unlikely in 1980... it shouldn't be by 2011-12,'' he said. "With the additional evidence in my submission, your honour should accept on the balance of probabilities that the dingo theory is the correct one.''
Virtually ever since Azaria vanished from her tent near Uluru (Ayers Rock) in 1980, Australia has been engrossed by the question of whether she was taken by a dingo.
In 1982, Ms Chamberlain-Creighton was found guilty of her baby's murder and sentenced to life imprisonment, while Mr Chamberlain was found guilty of being an accessory.
Both were later exonerated on all charges, after the chance discovery of a fragment of Azaria's clothing in an area dotted with dingo lairs.
It was a case that divided Australians and was even turned into the film A Cry In The Dark, starring Meryl Streep.
Coroner Elizabeth Morris adjourned the hearing without issuing a decision - that is expected next week, the BBC's Duncan Kennedy in Sydney reports.
Three previous coroner's inquests have failed to agree on a cause of death.
Now the Chamberlains believe a dingo will finally and officially be blamed for Azaria's death, ending 31 years of speculation and innuendo, our correspondent says.