Apple iPad sale ban case suspended for now in Shanghai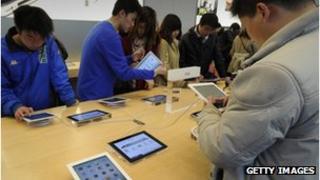 Apple can for now continue to sell the iPad tablet in Shanghai after a court ruling over naming rights was suspended on Thursday.
Chinese firm Proview had called for the courts to prevent Apple - who it accuses of infringing its trademark - from selling the device in the city.
A local court agreed to Apple's request to suspend the decision until a bigger case is heard later this month.
Apple insists it acquired worldwide rights for the iPad name in 2009.
Proview had requested that the court impose a provisional injunction to take the iPad off Shanghai's shelves - which would have included three of Apple's own stores.
Proview claims the rights to the iPad name in the Chinese market after registering it back in 2000 - years before Apple released its tablet computer.
The company is threatening to continue the battle in US courts.
Mainland rights
Although Proview's Taiwanese affiliate registered the name "iPad" in a number of countries, including China, Apple subsequently bought the rights to the global trademark.
However, Proview claims that its Taiwanese subsidiary had no right to sell the rights to the name in China.
The tussle has seen Apple's device taken off the shelves in some parts of the country - while Proview has also sought to block the import and export of the product.
Apple had previously lost a similar case in the southern Chin city of Shenzhen, where Proview is based.
That decision will be appealed by Apple at Guangdong High Court on 29 February.
On Thursday, the Shanghai judge said a ruling on sales in the city will not be made until that other judgement has passed.
Heated exchanges
His decision follows heated exchanges between the firms' lawyers in court earlier in the week.
Apple lawyer Qu Miao dismissed Proview's "IPAD" device, saying: "They have no market, no sales, no customers. They have nothing."
He argued that the US company's device was of benefit to China, providing jobs and tax revenues.
Proview lawyer Xie Xianghui said this factor was irrelevant.
"Whether people will go hungry because you can't sell iPads in China is not the issue," he said.
"The court must rule according to the law. Do you absolutely have to sell the product? Can't you sell it using a different name?''
In a written statement, an Apple spokesman re-iterated the company's position on the dispute.
"We bought Proview's worldwide rights to the iPad trademark in 10 different countries several years ago," he said.
"Proview refuses to honour their agreement with Apple in China and a Hong Kong court has sided with Apple in this matter.
"Our case is still pending in mainland China."