A Burmese refugee camp in Thailand is ravaged by fire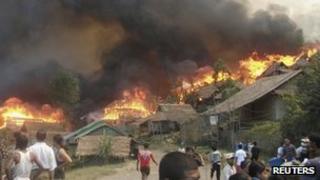 A fire has broken out at a Burmese refugee camp in Thailand, resulting in the destruction of hundreds of homes.
Up to half of the Umpiem Mai camp, located in the western Tak province, has been destroyed by the blaze.
The fire also destroyed three mosques and two nursery schools, according to the Thailand Burma Border Consortium.
BBC News understands that while no deaths occurred, arrangements were being made for victims to stay at local schools and temples.
The Thailand Burma Border Consortium said some people had suffered burns in the incident.
It is estimated between 800 and 1000 homes were on fire, and five zones of the camp were hit.
The camp houses 17,000 refuges from neighbouring Burma.
It is estimated about 130,000 Burmese refugees are currently living in similar camps close to the border between the two countries.