Kathmandu sex shop flourishing in conservative Nepal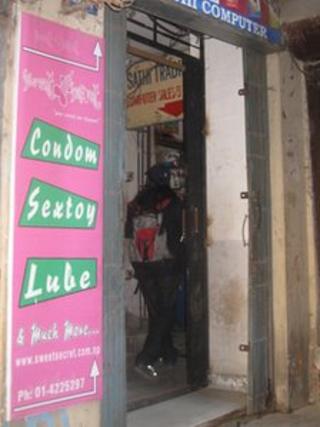 Tucked away in a small alley in the heart of Kathmandu's main business district is a flourishing shop that is defining the recent changes to conservative Nepal.
In a society where sex is still taboo, Manjeet Poudel and Praveen Dhakal have struck gold in an unthinkable trade.
Sweet Secret, the first registered sex toy shop in Kathmandu, opened nearly two years ago.
The response has been so phenomenal since then that the partners have already expanded their operation to two other cities.
And soon enough they will add two more cities to their list.
The duo sell 150 different items, from scented condoms to full body dolls, imported mostly from China.
Their average monthly sales are around 300,000 to 400,000 rupees (£,2400-3,200; $3,789-$5,053) from the Kathmandu shop alone - a pretty handsome return, they say.
"When we started this shop, we were anxious that there would be protests or opposition but, to our delight, there have been none," said Mr Dhakal.
It was not unreasonable for them to be anxious. There was apprehension when they approached the authorities for registration.
Officials finally agreed to register their shop and asked them to open '"proper showrooms" for selling sex toys.
"To import and sell different kinds of artificial sexual organs of male and female, and dolls, through properly managed showrooms without imparting any negative impact on public interest, decency, morality, and civility," reads one of the objectives of the shop, which was officially approved during registration.
The shop itself is somewhat inconspicuous, despite being located in the centre of the city.
Customers need to walk down a short alley and climb a dimly lit staircase before coming out at the bright shop with its pink walls and neatly ordered display cabinets.
Awkward
Every day, around 100 customers visit the shop in New Road, Kathmandu - about 10% are women, according to Mr Dhakal.
In order to help female customers or those who feel awkward visiting the shop, the company also offers online purchasing, which accounts for about a third of all sales.
Mr Poudel explained: "They [customers] can even order for delivery online... and we have female staff who can deal with female customers."
So what is the typical profile of a Sweet Secret customer?
Mr Poudel said: "Typically, they are over 35 years of age. There are no other tell-tale signs. Some are single, some are married."
The shop owners also said they regularly take orders from young Nepalese working in Gulf countries who want specific items to be delivered to their wives back home.
According to official figures, more than two million young Nepalese people work overseas, most of whom are male.
But a large number of clients are spouses of people who had left the country to work overseas.
The absence of such a large number of young men has had social consequences including increased extra-marital relations, according to sociologists.
Mukunda Raj Aryal, an expert on Nepalese culture, said: "It is but natural that when couples are separated at such youthful age, the incidence of adultery will increase."
The duo hope that their products can help resolve such problems.
Social transformation
The increasing interest in sex toys may also suggest that the mainly Hindu society is on a path towards social transformation.
Mr Aryal said: "Times have indeed changed. There has been onslaught of cultural invasion. We cannot blame anyone, but our morals and ideologies are in a state of rapid erosion."
In recent times, there has been a consumerist explosion, particularly in urban centres of Nepal.
While Sweet Secret may be the first registered sex toy seller, there have been many others before and since who have joined the trade in a more discreet manner.
Mr Aryal agreed: "Just look at the advertisements in newspapers. There are many who claim everyday that they have items that can satisfy any kind of need."
Meanwhile, Jala Krishna Shrestha, an expert in Nepali culture, is currently considering opening a sex museum in Kathmandu.
Mr Shrestha, a former joint secretary at the Ministry of Culture, said he wants a museum where people can appreciate the history of sex.
He said: "There are sex museums in many parts of the world. Why not here?"