Pakistan: Many die as car bomb hits Peshawar bus stop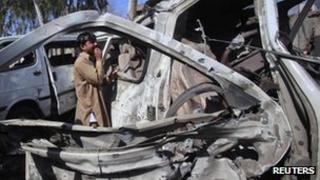 At least 12 people have been killed and 30 injured after a car bomb hit a bus stop in the city of Peshawar in north-west Pakistan, police officials say.
Several vehicles were badly damaged in the powerful blast.
No group has said they carried out the attack as yet.
Peshawar is close to the border with Pakistan's tribal region and has been the target of several bomb attacks in recent years.
Militants often carry out attacks across the north-west in retaliation for operations by the army against them in Pakistan's volatile tribal areas.
"The bomb was planted inside a bus terminal. There was a heavy rush of passengers when it exploded," police official Tahir Ayub told the Reuters news agency.
Television footage showed emergency vehicles racing the wounded to the hospital. Reports say the death toll is likely to rise - several of those injured are in a critical condition. Some of the dead are schoolchildren.
One man, Dilawar Khan, lost at least one of his young sons in the blast while they were at his shop at the terminal.
"Something like shrapnel hit me in the shoulder but I was conscious. Then I was brought to hospital and saw my son's dead body. I've lost everything," Mr Khan told the AFP news agency.
Bomb disposal experts said that 45kg (100ib) of explosives and mortar shells were packed into a car.
Although the frequency of high-profile bombings decreased in Pakistan last year, there have been many attacks on civilian targets in Pakistan over the last two months.
Last Friday dozens were killed when a bomb targeted the north-western town of Parachinar in the tribal district of Kurram.
And at least 30 died last month when a bomb hit a bus terminal in the Khyber tribal district.