UN body bars Sri Lanka diplomat Maj Gen Shavendra Silva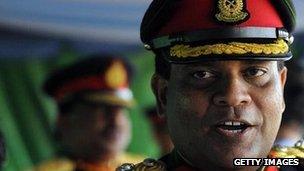 A controversial Sri Lankan diplomat has been excluded from taking part in the deliberations of a committee advising the United Nations Secretary General.
Major General Shavendra Silva led a division of the country's army during its civil war, and is the subject of a US lawsuit accusing him of war crimes.
He was chosen by Asian countries to sit on a UN committee about peacekeeping.
Sri Lanka's 26-year civil war ended in May 2009 with the military's defeat of separatist Tamil Tiger rebels.
Maj Gen Silva and Sri Lanka's UN mission appear to have made no public comment on the exclusion yet. He was appointed to the Special Advisory Group on Peacekeeping Operations in January 2012.
However Louise Frechette, the Canadian diplomat leading the group, said Silva's participation was "not appropriate or helpful", and went on to say that "he will not participate in its deliberations".
The BBC's Charles Haviland in Colombo said the Sri Lankan government had stated that raising concerns about the former commander was "unethical".
Our correspondent adds that a UN diplomat had told the BBC that Maj Gen Silva did attend the group's first meeting, but no members spoke to him and no documents were given to him.
Maj Gen Silva, who is Sri Lanka's deputy ambassador to the UN, describes himself as a "real hero" for his command of the 58 Division, central to the defeat of the Tamil Tigers.
However, a private lawsuit accusing the former soldier of war crimes is in progress in the US, and a number of UN officials have raised concerns over his actions during the war.
Last week the UN's human rights chief, Navi Pillay, said Maj Gen Silva was suspected of committing human rights violations.
Meanwhile, last year, a rights panel commissioned by Ban Ki-Moon said it believed several Tiger leaders were shot dead while trying to surrender as they walked towards the 58 Division's territory. Maj Gen Silva and the government deny this.
His exclusion from the group was praised by Philippe Bolopion, the United Nations director for Human Rights Watch, according to AFP.
The agency quoted him as saying: "By defeating Silva's attempt to pose as a respectable peacekeeping expert, Louise Frechette took a principled stand ... member states and the UN secretary general should publicly back her decision."
Related Internet Links
The BBC is not responsible for the content of external sites.