Amnesty International plea for war-displaced Afghans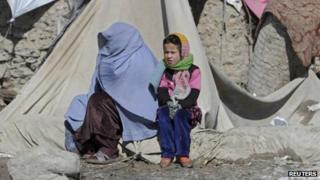 About 500,000 Afghans displaced by war are struggling to survive and are ignored by their government and foreign donors, Amnesty International says.
A report by the human rights group says that at least 28 children have died in harsh winter conditions in camps around the capital Kabul.
It says official estimates show that more than 40 people have frozen to death in other camps nationwide.
A government spokesman denied there was a lack of support.
Islamudeen Jurat, of the ministry of refugees and repatriation, said: "We support these people. We are going to provide permanent accommodation in their own provinces."
But Mr Jurat also added that he felt refugees did not want to go back to their own provinces.
'Horrific crisis'
Amnesty Afghanistan researcher Horia Mosadiq said: "Thousands of people are finding themselves living in freezing, cramped conditions and on the brink of starvation, while the Afghan government is not only looking the other way but even preventing help from reaching them.
"Local officials restrict aid efforts because they want to pretend that these people are going to go away. This is a largely hidden but horrific humanitarian and human rights crisis."
The report, called Fleeing war, finding misery: The plight of the internally displaced in Afghanistan, says that there are up to 35,000 displaced people in 30 slum areas in Kabul alone.
It says that most slum residents fled their homes to escape conflict which has spread to parts of the country previously considered peaceful.
Civilian deaths have increased every year since 2007, the report states.
It calls on the International Criminal Court (ICC) to investigate war crimes by all parties.
The report also calls on international donors - who it says fund more than 90% of Afghanistan's total public expenditure - to ensure that their humanitarian assistance addresses the needs of internally displaced people.