Key Pakistan 'memogate' player Mansoor Ijaz testifies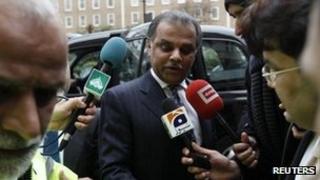 The businessman at the centre of Pakistan's "memogate" scandal has begun giving video link testimony to a judicial commission in Islamabad.
Mansoor Ijaz is giving evidence from London, having argued that returning to Pakistan would compromise his safety.
He alleges that Pakistan's former US ambassador, Husain Haqqani, drafted a memo at the behest of President Asif Ali Zardari seeking US help to avert a possible coup in Pakistan.
Both men deny Mr Ijaz's allegations.
Mr Haqqani was later forced to resign after the scandal caused an outcry among senior generals.
The BBC's M Ilyas Khan - who is attending the hearing in Islamabad - says Mr Ijaz's testimony will generate some media interest, but the drama it created at the end of last year has dissipated.
Our correspondent says the military has seemingly lost interest in the case, and no-one now expects the scandal to topple the government.
Mr Ijaz, an American businessman of Pakistani origin, revealed in October that he had been asked to deliver the anonymous memo to Adm Mike Mullen, the top US military officer at the time.
He believed the request had come from the top - from President Zardari. He said he delivered the memo to the US authorities. Both the president and Mr Haqqani deny that.
Slow testimony
On Wednesday Mr Ijaz told the commission that he wrote the controversial memo from notes that were dictated to him over the telephone by Mr Haqqani.
Adm Mullen's spokesman confirmed last year that the memo had been received, but insisted it had not been acted upon.
The petitioner in the case is former Prime Minister Nawaz Sharif who accuses Mr Haqqani and President Zardari of a "treasonous" act in drafting the memo following the killing of Osama Bin Laden last May.
Mr Ijaz's appearance before the judges has been delayed for weeks.
He is now slowly recording his testimony at the hearing one sentence at a time, so the court stenographer in Pakistan can record his words.
In his testimony on Wednesday he said that Mr Haqqani feared that the Pakistani military was planning a coup after the killing of Osama Bin Laden last May.
The scandal blew up at the height of the civilian government's face off with the military, and many thought it could bring the government down.
Officials say that Mr Ijaz's testimony may continue for some time.