Japan's Sky Tree tower gets its own promotional perfume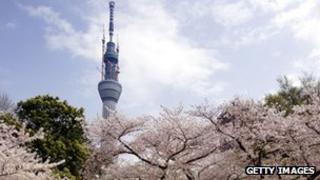 As Japan's tallest tower nears completion, the Tokyo Sky Tree is being promoted with a new perfume.
Cosmetics company Shiseido will release Tokyo Sky Tree Parfum as a limited run of 634 bottles, matching the tower's 634 metres.
The tower, the tallest in the world, is due to be completed this month and opened to the public in May.
The tower will carry TV signals for some of the country's major broadcasters.
It will have two observations decks open to the public. It was certified as the tallest freestanding tower by Guinness World Records in November 2011 after overtaking Guangzhou's Canton Tower.
Other promotional activities include the creation of a children's character known as "Sorakara-chan".
The character's name is a play on the two readings of the Japanese character for "sky", and she appears with a star on her head.
But the wordplay surrounding the Tokyo Sky Tree extends beyond children's characters - the building's height of 634 metres also shows evidence of clever use of language.
The numbers 6, 3 and 4 can be pronounced in Japanese as "Mu-sa-shi", which is an old name for the area in which the Sky Tree stands.
Sky Tree White
The tower was named after a public vote, which saw Tokyo Sky Tree beat off competition from names such as Mirai Tower (Future Tower), Rising East Tower and Tokyo Edo Tower.
Tokyo Sky Tree gained almost 30% of the vote, with Tokyo Edo Tower coming second with 28.4%.
The very individual nature of this tower is even present in its colour - officially called "Sky Tree White", it is a white paint with a tinge of blue known in Japanese as "Aojiro".
Construction of the Tokyo Sky Tree began in July 2008, a year-and-a-half after plans were released.
Following the earthquake that struck Japan in March 2011, a full assessment of the structure was carried out.