Japan lodges protest with China over East China Sea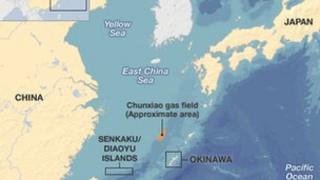 Japan has lodged a diplomatic protest with China after its coastguards were blocked from conducting a marine survey in disputed waters, officials say.
A Chinese ship had ordered Japanese coastguards to stop surveying waters 170km (105 miles) north of Kumejima, in the southern Okinawa prefecture.
Japan's chief cabinet secretary Osamu Fujimura called the demand "unacceptable".
Both countries claim exploration rights to a gas field in the area.
The economic zones of both countries overlap at a gas field known as Shirakaba in Japan and Chunxiao in China in the East China Sea. The two countries claim exclusive excavation rights to the area.
"We told China via diplomatic channels that we are conducting legitimate marine research within our EEZ (Exclusive Economic Zone) and the activity cannot be halted," Mr Fujimura was quoted by Kyodo news agency as saying.
A spokesman for Japan's coastguard said that the Chinese ship had contacted their ship by radio to stop the marine survey and shadowed their boat thereafter.
In 2010, there were diplomatic tensions between the two countries over the same area.
China had started drilling in Chunxiao in 2003, inflaming tensions with Japan, which expressed fears that Beijing could siphon gas from what it considered its own side.
China contends that the gas field falls easily within its maritime zone, but Japan contests this.