Burma monk Shin Gambira 'faces legal action'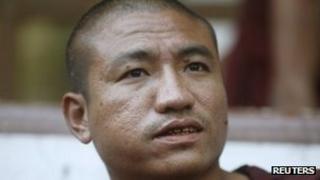 Burmese monk Shin Gambira, one of the leaders of anti-government protests in 2007, will face fresh legal action, according to state media.
He is accused of staying in a monastery that had been sealed by the authorities and of breaking into two others.
Gambira had been released as part of an amnesty last month, but continued his criticism of the civilian, military-backed government.
He was briefly detained earlier this month before being released again.
The state-run New Light of Myanmar said that after questioning Gambira was taken to senior monks who reprimanded him for his behaviour, news agency AFP reports.
The senior monks "wished for legal actions" against him after he admonished them for not helping jailed monks, according to the New Light.
Reports in state media also accused Gambira of rejoining his religious order without requesting authorisation, Reuters news agency reports.
Gambira's brother Aung Kyaw Kyaw, told Reuters on Sunday that he had had no news of the developments reported in the state-run press.
Hard labour
One of the leaders of the All-Burmese Monks Alliance, Gambira was arrested in November 2007, weeks after the monk-led ''saffron revolution'' protests were crushed.
Less than three weeks later, he was sentenced to 68 years, including 12 of hard labour.
He was one of 651 people freed on 13 January in what was the most significant release of political prisoners since the country began a series of reforms aimed at encouraging the lifting of sanctions imposed by the European Union and United States.
In interviews after his release, Gambira expressed deep scepticism about reforms taking place in Burma.
Parliamentary by-elections are due to take place in April, with opposition leader Aung San Suu Kyi standing for a seat in parliament.
EU Development Commissioner Andris Piebalgs said this week that sanctions on Burma could be eased if the elections were free and fair.