Afghanistan's Karzai in Pakistan for talks on Taliban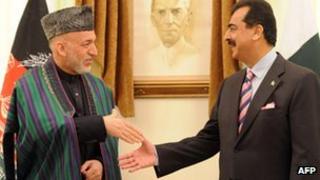 Afghan President Hamid Karzai is holding talks in Pakistan, which are expected to focus on attempts to bring the Taliban into the peace process.
Mr Karzai is likely to tackle claims that Pakistani military personnel continue to support the insurgency.
Iranian President Mahmoud Ahmadinejad is due to join the meeting on Friday for talks focusing on trade issues.
Mr Karzai earlier said Kabul had already had contacts with the Taliban - but the militants denied the claim.
In a statement on a militant website Taliban spokesman Zabiullah Mujahid said that no decision had yet been taken to hold a dialogue with the "puppet" Kabul administration.
But in an interview published on Thursday, President Karzai insisted that there have been contacts between the US government and the Taliban, as well as contacts between the Afghan government and the Taliban.
"And there have been some contacts that we have made, all of us together, including the Taliban," he told the Wall Street Journal.
He said Pakistan's co-operation would make the process easier.
The paper reported that Mr Karzai refused to go into details about the talks.
The Afghan ambassador to Pakistan, later described the contacts with the Taliban as "exploratory".
"They are not talks. We have not reached that stage," ambassador Umar Daudzai told Reuters.
The US, Afghanistan and the Taliban have been involved in a tentative process to explore the possibility of peace talks, which reportedly were likely to be hosted by Qatar.
Talks 'overshadowed'
The Afghan leader has already held talks with Prime Minister Yousuf Raza Gilani.
Analysts say Mr Karzai may seek access to Taliban leaders believed to be in Pakistan.
The Afghan leader has good relations with Pakistan's civilian politicians, but ties have often been tense with the military, whom he accuses of backing the Taliban.
The BBC's Aleem Maqbool in Islamabad says the talks on the Taliban are likely to be overshadowed by the arrival of Mr Ahmadinejad.
Afghan and Pakistani diplomats say they want the agenda of the three-way talks to stick to trade and ways to stop drug trafficking.
But Mr Ahmadinejad, looking to garner support as tension rises with Israel, may well have different ideas, says our correspondent.