Sri Lankan army to investigate civilian war casualties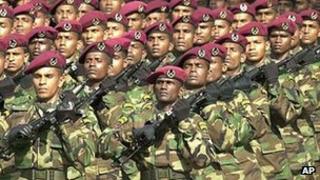 The Sri Lankan army says it is investigating allegations that troops may have caused civilian casualties as the civil war drew to a close in 2009.
It is a significant new development as the government earlier said its forces did not kill a single Tamil civilian while crushing Tamil Tiger militants.
The inquiries may lead to some courts martial which could impose any sentence, including the death penalty.
The military say that the move is not in response to international pressure.
In its statement, the army said its commander, Lt-Gen Jagath Jayasuriya, had appointed a five-member court of inquiry to examine two separate reports - that of a presidentially-appointed war panel, the Lessons Learnt and Reconciliation Commission (LLRC), and a documentary by the British commercial TV station, Channel 4.
Exonerated
Up until now the government has described video footage used by Channel 4 as fake but the army said it would be probed "irrespective of its authenticity or otherwise".
The documentary, broadcast in June, alleged that the government side was especially to blame for mass civilian deaths through bombardment and that soldiers executed Tamil Tiger suspects who had been taken prisoner.
The LLRC report - published in December - said that the security forces might be implicated in specific instances of civilian deaths and that these should be investigated.
It quoted witnesses who alleged that the security forces shelled civilians as they queued for milk powder in the besieged Tiger-held zone or tried to escape by boat across a lagoon.
The LLRC exonerated the armed forces from any deliberate targeting of civilians, in contrast to some international human rights groups which say the rules of war were broken and tens of thousands of civilians died.
Quoting the army chief, the statement said the Court of Inquiry was a fact-finding body. If it found evidence of a prima facie case "against any person", the alleged offenders would be tried in a court martial.
On Monday the US Assistant Secretary of State, Robert Blake, on a visit to Colombo, said Washington believed "there should be an investigation into war crimes", particularly into the events of the war's endgame.