Five Afghan policemen killed in Uruzgan bomb blast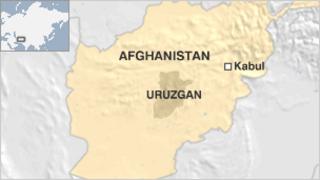 Five Afghan policemen have been killed by a roadside bomb in central Uruzgan province, officials say.
They say another person - reportedly a civilian - was injured when the bomb hit a police patrol vehicle.
No group has so far claimed responsibility for the attack late on Friday.
Taliban insurgents frequently use roadside bombs against Afghan security forces and also Nato-led troops in the country.
Afghan police are particular targets for the Taliban - as Kabul prepares to take over security responsibilities from the Nato-led coalition in 2014.