Indonesia city to require tree planting before marriage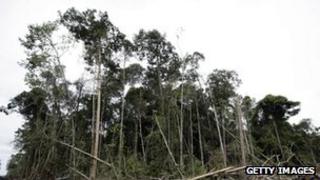 Couples in the western Indonesian city of Medan will have to plant two trees before they are granted a marriage permit, officials say.
The "environmentally-friendly" initiative was announced by the religious affairs office in the Sumatran capital on Wednesday.
The policy will be rolled out in the city from March.
One official estimated that Medan will get at least 2,000 new trees each month as a result of the plan.
Iwan Zulhami told the BBC that the couples will get two seedlings upon registration.
"The policy has a noble purpose, and it is necessary to support the government's tree-planting program," he said, explaining that the trees were to be planted at the couples' home.
Aside from Medan, a number of districts on Sulawesi island will also be implementing the policy. It is unclear how the new initiative will be policed.
In Indonesia, Muslim couples intending to marry must register with the Office of Religious Affairs. Non-Muslims register with their places of worship and the Civil Registry Office.
A government tree-planting programme was launched last year.