Saudi detained in Malaysia for insulting Prophet tweet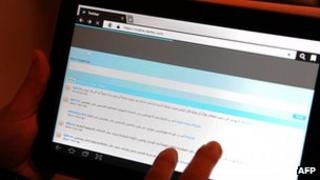 Malaysian police have detained a Saudi journalist accused of insulting the Prophet Muhammad in a tweet.
Hamza Kashgari posted a controversial tweet on the prophet's birthday last week that sparked more than 30,000 responses and several death threats.
He was held on arriving at Kuala Lumpur International Airport on Thursday, officials said on Friday.
It is unclear if the newspaper columnist will be extradited.
The 23-year-old tweeted on Saturday: "I have loved things about you and I have hated things about you and there is a lot I don't understand about you. I will not pray for you," the AFP news agency reported.
He has apologised for his remarks and removed the offending tweets, but that did not stem the outrage. Clerics have called for him to be charged in court.
It is considered blasphemous to insult the prophet. Blasphemy can be punishable by death in Saudi Arabia.
Malaysian authorities did not say where Mr Kashgari flew to Kuala Lumpur from. He allegedly fled his country after the Saudi king ordered his arrest, said Twitter users.
His Twitter account appears to have been deleted.
Muslim-majority Malaysia does not have a formal extradition treaty with Saudi Arabia.
However, an official who did not wish to be named told the AFP news agency that Mr Kashgari could be extradited under other bilateral security agreements.
It was reported earlier that Interpol had sought the journalist's arrest, but a spokesman denied Interpol's involvement in the case.