BBC man stars in Nepali feature film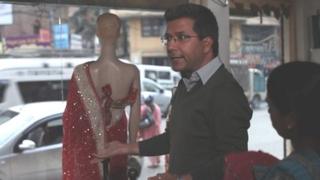 A Nepali feature film is to be shown for the first time at a top film festival. Highway - featuring BBC Nepali editor Rabindra Mishra in a starring role - has its world premier in Berlin on Friday. For Rabindra, making his film debut was a challenge - but playing a doctor with a fetish for a mannequin was even more daunting.
When it was confirmed that I would play the role, I must confess that I was more than a little apprehensive even though acting has always been one of my passions.
Apart from the rather unusual and complex nature of my role in Highway, it was not far from the back of my mind that it had previously been offered to Rajesh Hamal, widely regarded as one of Nepal's top film stars.
But Highway director Deepak Rauniyar and casting director, Asha Magarati - who I met through a friend - reassured me that I was a more than adequate replacement.
So how do you prepare for the part of a doctor who, because of a poor relationship with his wife, has developed a sexual obsession for a mannequin?
Furthermore, how do you perform such a role when your only acting experience is a few dramas at school and college and for the past 20 years you have worked as a journalist?
Ill-fated bus journey
In the run-up to and during rehearsals, I did my homework, which included studying the psychology of people with such fetishes.
I learnt that someone with this condition in the US was jailed for breaking shop windows and stealing mannequins. That would be difficult in Nepal, where most shop fronts are a little less glamorous.
The second and more important part of my preparations was attending a week-long workshop in which I could talk through the basics of the role and begin rehearsals.
I was able to discuss the plot in detail and ask questions about how I would play my part. It was all very exciting, especially for a novice actor like me.
The film centres on the unfolding of five different relationships that become accidentally entangled during an ill-fated bus journey from eastern Nepal to the capital, Kathmandu.
The passengers on the bus - each urgently needing to be somewhere else - find themselves stranded on the only main road as their path is blocked by a "bandh", a kind of unlawful strike which has become increasingly common in Nepal.
As the passengers try to find a way of beating the bandh, the film subtly shifts into an exploration of the psychological and spiritual blocks of the passengers, exploring the difficult situations in which ordinary people have found themselves following the recent end of Nepal's bloody 12-year civil war.
I told Director Deepak Rauniyar that he should not hesitate to get rid of me if I wasn't up to the job. Fortunately that did not happen.
I suppose the combination of the research I had done into the fetish condition - combined with the advice I had received from the director - enabled me to grow into the role to such an extent that I soon became confident with the improvised nature of the film.
Mr Rauniyar explained the context of each scene, suggesting rough entry and exit points, but leaving the actors themselves to come up with spontaneous dialogue in keeping with their characters. I was able to become fully immersed in my character.
Although each scene was shot a number of times, I found myself feeling increasingly comfortable with my performance.
All this is a personal triumph for me, but it is doubly so in the case of Mr Rauniyar.
Although he has produced critically acclaimed short films in the past - including some dramas for the BBC World Service charity, Media Action - Highway is his feature film directorial debut.
Joyful tears
If this is not achievement enough, he has somehow persuaded Hollywood heavyweights Danny Glover and Joslyn Barnes to give their backing to the film.
In a statement, they said it "candidly portrays the challenges facing a society emerging from a brutal 12-year civil conflict, while presenting affecting, intertwining stories that hold universal appeal".
Mr Glover even made an appeal on a crowd-funding website to help meet the costs of the low-budget film. The campaign raised around $34,000 in a month.
All this is something of a boon for the Kathmandu film industry - inevitably nicknamed Kollywood - which produces about 80 films a year.
The Nepali cinema industry is still young. The first Nepali-directed film was produced in 1964 and it has taken nearly 50 years for a Nepali film to be shown at a major global film festival.
That is why Highway has become one of the most talked about movie ventures in recent years - even though the film has not yet been released in Nepal and the actors have not yet had a chance to see it.
But many believe that the standard of the movie must be high, given that it has been selected for the Berlin Film Festival - something that made Mr Rauniyar weep with joy.
He is hoping to release the film first in the international market and then in Nepal around September or October this year.
I have been fortunate to realise my dream, which I hope to pursue if I can.