Afghan police 'poisoned and shot' in Kandahar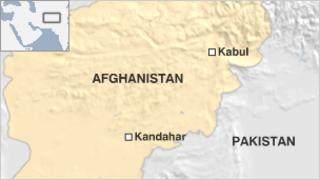 At least five policemen have been shot dead at a checkpoint in the southern Afghan city of Kandahar, officials say.
Intelligence officials say the men were first poisoned by a police cook who served them food at the checkpoint.
After they collapsed, the men were shot dead. It is unclear if the cook was involved in the shooting but he has since gone missing.
A Taliban spokesman said they carried out the attack, but their involvement has not been independently verified.
Analysts say it is the latest in a series of similar incidents which have heightened concerns about rogue elements within the security forces.
Intelligence officials say it is not yet clear what motivated the cook to poison the men, however he appears to have stolen the weapons, ammunition and communication equipment of the policemen before fleeing in a police vehicle.
A spokesman for the governor of Kandahar gave a different account of events, saying the men were shot dead after an argument involving members of a private security firm.
There have been several incidents in the past of Afghan security forces being poisoned and then attacked.