Rogue tigress 'terrorises Bangladesh villagers'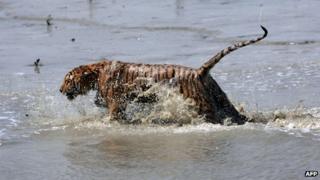 A rogue female tiger with cubs has killed at least eight people in the past month in south-west Bangladesh, wildlife officials say.
The attacks in the south-western Sundarbans mangrove forests have caused panic among villagers.
In all 12 people have been killed by tigers in the area this year, roughly twice as many as by this time in 2011.
Hundreds of fishermen venture into the mangrove forests at this time of year to collect leaves for thatched roofs.
It is estimated that around 400 critically endangered Royal Bengal tigers live inside the forests, which stretch between Bangladesh and India.
Although tiger attacks on humans are not unusual in the Sundarbans, the recent spate of attacks has surprised many.
"One particular tigress with a cub has killed at least eight people. Maybe it doesn't want humans to enter into its territory. Interestingly, it is not a man eater. It only kills people, but it doesn't eat their flesh," Western Sundarbans senior forest department official Zahiruddin Ahmed told the BBC.
"At least 12 people have been killed by tigers in the Sundarbans area since the beginning of the year."
Already this year as many people have been killed as there were in the first two months of 2011.
Mr Ahmed said most of the attacks took place in the district of Satkhira, which borders the mangrove forests.
Most of the victims are either leaf collectors or fishermen who have strayed into the path of the female tiger who is more aggressive than usual because of her cubs, he said.
'Scared' villagers
Nearly half a million people depend on the Sundarbans for their livelihoods. Fishermen venture deep into the mangrove forests to catch fish, crabs or gather honey. Tigers often attack them.
Some tigers frequently raid villages bordering the Sundarbans at night time, killing goats and cows. Such forays invariably cause panic among villagers.
"I have been living here for more than 35 years but I have never seen a tiger coming into our villages so audaciously taking our cattle and killing humans. No one goes out of their houses after sunset. We are scared," Jamir Hussain from the village of Golakhali said.
Villagers have in recent years formed tiger response teams to protect villagers and tigers whenever the animals enter villages.
Experts attribute the increasing conflict between humans and animals to a loss of forest cover and the disappearance of the tigers' habitat, including a decline in the animals they prey on. They also say tigers are very territorial and should not be disturbed.
"As more and more people go into the Sundarbans, the number of tiger attacks is also increasing sharply," Tapan Kumar Dey, a senior forest department official, said.
"We should discourage golpata leaf collectors from going into the Sundarbans to reduce these incidents," he said.