Qantas CEO warns against airline legislation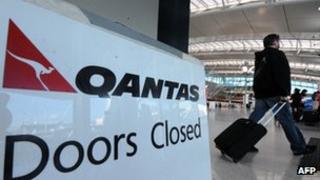 The chief executive of Qantas said the airline would be forced to cut services and jobs should pro-Australia airline bills be passed.
Alan Joyce told a Senate committee that amendments to the airline laws posed a "major threat" and could even force Qantas to sell its Jetstar airline.
Proposed by Senator Nick Xenophon, one bill would force Qantas to keep its main operations in Australia.
Another bill seeks to amend aircraft crew laws.
Last year, the flag carrier announced plans to launch two new airlines in Asia and restructure its struggling international carrier. It also planned to set up a budget carrier in Japan.
The amendment to the Qantas Sale Act of 1992 - called the Still Call Australia Home Bill 2011 - requires that the majority of heavy aircraft maintenance, plus flight operations and training, be conducted in Australia.
Another proposed bill would require Australian airlines and their subsidiaries to offer the same wages and benefits to crew based overseas as to their local counterparts.
"You will be responsible for making Qantas less competitive just when we most need the freedom to compete," Mr Joyce told the Senate committee.
"If the amendments are passed, and international crews are treated as Australian in terms of wages and conditions on domestic legs of international flights, we will no longer be able to viably operate those international services," he added.
"The reality is simple - we must all adapt or die. At Qantas we want to adapt, we must adapt if we are to survive."
Qantas has been hit by labour disputes with unions ever since it announced plans to set up new carriers in Asia.
In October last year, Qantas grounded its entire fleet to try and force an end to ongoing strikes. The grounding lasted 48 hours and reportedly cost the airline A$194 million ($208 million).
In December, the airline said it had reached an agreement with its main engineers union, in one of three ongoing disputes between the Australian airline and its workers.