Thousands evacuated from Queensland flooding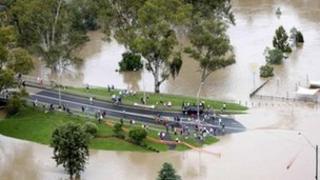 Floods continue to threaten Queensland in eastern Australia, with the town of St George expected to be worst hit.
Thousands have been evacuated from the area, which is seeing its third major flood in less than two years.
The Balonne River in St George reached 13.48 metres on Monday and was expected to keep rising to a peak of 14-15 metres by late Tuesday.
Despite a mandatory order to leave, about 400 residents remained in town, Australian media reported.
''The danger area now is St George,'' Queensland Premier Anna Bligh told ABC News.
The evacuation, which she said was the largest ever for a town in the state, was orderly.
About 1,700 people left in their own vehicles, and another 500 were transported by bus and planes.
On Monday morning, a major highway was closed due to flooding and the town of about 3,000 was accessible only by air.
More planes will be sent to take the remaining 400 residents out, said Ms Bligh.
The highway is expected to be under water for five to seven days, she added.
''When people do return to town they are going to find I think a lot of devastation, a lot of heartache,'' she said.
'Heartbreak job'
St George was also badly affected during the massive flooding in Queensland last year that killed 35 people, damaged crops and infrastructure, and hit coal production hard, driving up prices.
Police officers will remain in town to ''make sure people's homes are safe'', Queensland Police Commissioner Bob Atkinson told reporters.
Last week, severe flooding threatened parts of New South Wales and Queensland. cutting off towns and forcing thousands out of their homes on Friday.
A military helicopter carrying bedding and supplies was sent to the northern New South Wales town of Moree, which looked like ''an inland sea'' from above, NSW Premier Barry O'Farrell said.
In Queensland, the town of Mitchell was flooded by the Maranoa River and Roma by the Balonne River.
''Both of those are in record flood and they both flow into the St George area,'' said Ms Bligh.
At least one life was lost - a woman whose car was reportedly swept from a roadway in Roma. The water has began to recede in Mitchell and Roma and cleanup work has begun.
"But the heartbreaking job of calculating the loss is still in its early stages," she said.