Papua New Guinea ferry: Fears grow for 100 missing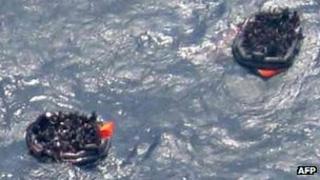 Ships and helicopters are continuing to search for more than 100 people missing after a ferry sank off Papua New Guinea's north coast on Thursday.
Almost 250 people rescued in a joint Australian-PNG operation have reached the eastern PNG town of Lae, officials said on Friday.
The search for the missing - mostly university students - resumed at daylight.
An official said there were fears people had been trapped in the ferry.
The MV Rabaul Queen, a vessel owned by PNG-based Rabaul Shipping, sank east of Lae some 10 miles (16km) from shore. The company said in a statement that there were 350 passengers and 12 crew onboard.
"We acknowledge that this has caused tremendous suffering. Our condolences go to the loved ones of those affected," said Rabaul Shipping managing director Peter Sharp.
Relatives of the passengers, angered by a lack of information, threw rocks at the company's office in Kimbe on Thursday, Australian media reported. Local police said it had to move the staff to an undisclosed location.
So far a total of 246 people have been plucked from the water. Most of the survivors who have returned to Lae were taken to the local hospital.
"None of them had sustained any real injuries. They were pretty cold and miserable," Lae Chamber of Commerce president Alan McLay told Australian media.
Nurur Rahman, acting chief of Papua New Guinea's maritime authority, said he was hopeful of finding more people alive in the tropical waters.
"People have survived for up to two days,'' he told the Associated Press news agency. As of Thursday night, no bodies had been found, he said.
'Cause unclear'
Survivors told rescue officials that the ferry was hit by huge waves before it rolled and sank. Some had to cling onto debris in the water before they were picked up by the six merchant vessels alerted by Australian authorities to head to the scene.
"We found a number of (opened life-raft) capsules with no people in them," Rony Naigu, a rescue official from Papua New Guinea's maritime safety authority, told Reuters.
The company that operates the ferry said the cause of the disaster remained unclear. It was believed that the Rabaul Queen maintained radio contact with another vessel just before it sank and gave no indication of distress.
The company also said it alerted Australia's Maritime Safety Authority (Amsa) after the ferry disappeared on a satellite tracking system.
The ferry was travelling on a ''routine route'' between Kimbe and Lae, which it had done weekly for 11 years without any accident, the company added in a statement.
The Japanese-built vessel had undergone a dry dock service in November 2011.
"While we are trying to comprehend the terrible nature of the accident, we are also staying focused on helping authorities as the search and rescue operation unfolds," said Mr Sharp.
Papua New Guinea Prime Minister Peter O'Neill said everything would be done to establish the cause of the accident.
"We will leave no stone unturned," he said. "We cannot afford to continue to lose our people's lives. Sea transport is one of the most important forms of transportation in the country."