Sri Lanka Togo refugees condemn 'miserable conditions'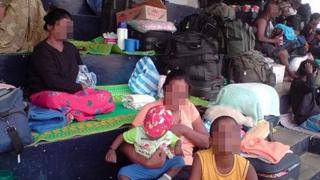 About 200 Sri Lankan Tamil refugees have told the BBC that they are enduring miserable conditions in the West African state of Togo.
They say they are living on meagre rations and face the prospect of imminent deportation home, where their lives are in danger.
The refugees say they are being detained by the army in an open sports stadium in the capital Lome.
The Togo authorities have declined to comment on their claims.
The refugees say they fled Sri Lanka to escape government persecution.
Tamil Tiger rebels fighting for a separate homeland in the island were defeated in 2009 by the military after decades of fighting.
The Sri Lankan government insists that only Tamils guilty of war crimes have anything to fear by staying in the country.
But their assurances have not stopped hundreds trying to leave Sri Lanka - mostly travelling illegally by boat to Australia, Canada and Europe.
'Inhuman conditions'
Those being held under tight security in Togo told the BBC by telephone that they were hoping to get to Canada by boat from Ghana after travelling through India and Ethiopia.
But they say that they were tricked by their agent - who has now vanished.
He was supposed to have arranged their journeys, but instead "dumped" them in Togo after charging them $6,000 (£4,000) each.
"We have been arrested on charges of overstaying our visa period since 24 October and have been told that unless we voluntarily return to Sri Lanka, we will be deported forcefully," an inmate at the stadium detention centre told the Tamil Service.
Many of the refugees are from the northern and eastern areas of Sri Lanka where the final phase of the war took place - and if they are deported, their lives will be in jeopardy.
The detainees - who include 19 women and 11 children - say they have to endure bad weather and humiliating treatment by guards at the stadium.
They say they are facing deportation even though many are suffering from malaria and have not received any medical treatment.
"Every morning we are woken early and made to sweep the entire stadium and clean the toilets used by the military," another camp inmate said.
It is expected that the first group of 28 refugees could be made to return as early as 4 February.
Togo has been accused of human rights violations by campaigning groups for many decades.