Afghan Taliban deny plans for peace talks in Saudi Arabia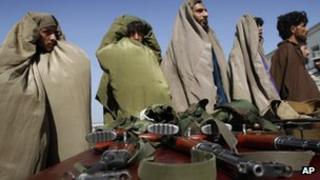 The Afghan Taliban have denied planning to hold preliminary peace talks with representatives from the Afghan government in Saudi Arabia.
Taliban spokesman Zabihullah Mujahid said media reports about an upcoming meeting in the kingdom were "not true".
The talks were to be separate from planned negotiations between the insurgents and the US in Qatar, where the Taliban are to set up an office.
Senior officials in Kabul earlier said the Taliban had agreed to the plan.
Western and Afghan officials had told the BBC that the talks were intended to jump-start the peace process, and would come before the establishment of the Taliban office in Qatar.
'Not at negotiation phase'
"We see Saudi Arabia with respect, because it is the centre of Islam. However, as it was reported in media that the representatives of the [Taliban] will meet with the Afghan government delegation, that is not true," Mr Mujahid said in a statement.
The Taliban, which refuses to recognise the government of Hamid Karzai, had earlier refused to comment on the plan.
The group has so far insisted they will only talk to the US and other allies of the Kabul government.
Saudi government sources told Reuters that the authorities were reluctant to host the talks unless the Taliban renounced ties to al-Qaeda.
In their statement, the Taliban said they had not yet "reached the negotiation phase with the US and its allies".
"Before there are negotiations there should be a trust-building phase, which has not begun yet."