'Baloch rebels' kill 11 Pakistani soldiers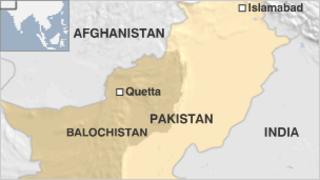 At least 11 Pakistani soldiers have been killed and 12 injured in an attack on two posts by separatist militants in Balochistan province, officials say.
The posts in the Margut area, 60km (40 miles) east of the provincial capital Quetta, were attacked overnight.
Officials say that the soldiers were guarding coal mines in the province which has seen years of insurgency.
Baloch rebels want greater political autonomy and a share of natural resources including coal, oil and gas.
The army said that the clashes continued for five hours, and that militants who came from mountain hideouts planted remote-controlled bombs to block reinforcements.
A military spokesman told the AFP news agency that the attackers belonged to a Baloch militant group led by Harbiar Marri who is living in self-imposed exile in London.
Mr Marri has not so far responded to the allegation.
Correspondents say that there is a growing sense of frustration among unemployed youths in the province who are increasingly joining the separatist insurgency or pro-Taliban militant groups.