Germany returns Afghan sculpture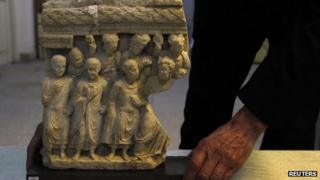 Germany has returned an ancient pre-Islamic sculpture looted during Afghanistan's civil war, officials say.
The sculpture depicting eight figures dates from the second century and has been described as a masterpiece.
Its return has raised hopes in Kabul that other lost or stolen treasures will also be returned.
In 17 years of war after the 1989 Soviet withdrawal, most of the Afghan National Museum's riches were looted and some were deliberately destroyed.
But many of the most valuable items survived.
Of the estimated 100,000 objects on display in 1979, some 70% had gone by the mid-1990s. Priceless goods, some looted to order, changed hands on the international art market. Others were buried in rubble or burned as firewood.
Correspondents say that the limestone sculpture returned by Germany to the museum earlier this week is a reminder of Afghanistan's rich classical and cultural past on the crossroads of Asia.
The eight figures, all with faces turned towards the left, are believed to be people watching Buddha on his throne in the ancient kingdom of Gandhara - which stretched across part of Afghanistan and Pakistan, the Foreign Ministry said.
Taliban disdain
"This is a masterpiece... I am optimistic that in the future we will get the other artefacts back," National Museum Director Omara Khan Massoudi told the Reuters news agency.
The Afghan embassy in Berlin is now reported to be investigating who owned the sculpture since it appeared in Munich a year ago.
Looted Afghan treasure has appeared in a variety of places, including Europe, the US, and Japan.
The National Museum is expecting 20 ivories currently held in the British Museum to be returned later this year.
Mr Massoudi said that an agreement between the UN's Educational, Scientific and Cultural Organisation and global police Interpol had helped to recover over 8,000 artefacts since 2007, including a fifth century wooden Buddha.
But he said that tens of thousands of items are still missing.
The National Museum is located a few kilometres south of the capital, in an area that repeatedly changed hands as mujahideen militias vied for influence in the early 1990s.
The Taliban's disdain for pre-Islamic art became clear for all to see with the destruction of the giant Buddhist statutes at Bamiyan in 2001.
They ruled, the same year, that all pre-Islamic art in the country must be destroyed and set up a special group to carry out task.
Mr Massoudi estimates that they destroyed about 2,500 works of art.