Gunfight leaves four dead in Thailand's restive south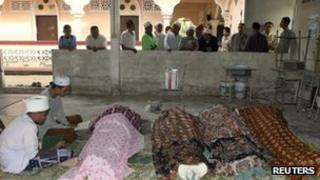 Military forces killed four men suspected of being insurgents during a gunfight in restive southern Thailand, officials say.
Four others were also wounded during Sunday's gunfight in Pattani province.
Officials said unknown gunmen opened fire as their pick-up truck was being inspected at a military checkpoint.
Pattani is one of three southern Thai provinces where Muslim separatists carry out regular attacks.
"This is an area that has been under a lot of insurgent influence," regional army spokesman Akara Thiproj was quoted by news agency Reuters as saying.
"There were similar attacks on military officers in this area in the past."
But some reports said local people gathered at the scene and claimed the killings were unlawful and that the dead men had no connection with the insurgency.
Muslim separatists carry out regular attacks in Thailand's three southern provinces, usually through roadside bombings or drive-by shootings.
More than 4,300 people have been killed in violence since 2004 when a decades-old separatist campaign reignited.
The Thai army has 60,000 forces stationed in the region to tackle the insurgency as of last year.